Our mission is the preservation and education of the area's rich mining heritage.
To continue and improve upon this mission, we are raising funds for a new building.
To learn more, please contact us.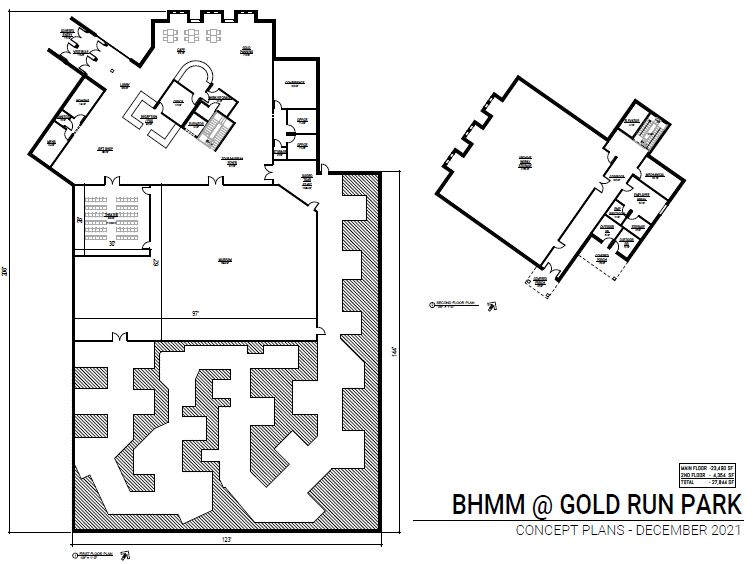 Why is a new facility needed?
Our current building is showing its age and is lacking in many of the necessities of a strong, sustainable museum. 
• Dedicated, convenient parking
• Be highly visible to highway traffic
• Parking for buses, travel trailers and RVs
• Full ADA compliance
• Environmental systems unique to museum
• Space for collection or archival growth
Why is now the right time for a new facility?
Lead is experiencing a growing tourism economy, an expanding SURF, and a reviving mining industry. No better time than now!
What is envisioned with a new facility?
A building located at the east gateway to Lead in Gold Run Park with lots of dedicated parking and great highway visibility.
A building that communicates mining and history and beckons those passing by to come in and see.
A building that will be large enough for all it is and hopes to be.
What else is there to know about this project?
The relocation of the museum will allow for the redevelopment of its current downtown property benefiting the community with a new library and additional parking, living, and retail space.
Tom Nelson
"There is no finer example of truly a grass-roots effort to preserve and tell the story of a community's heritage. . . and in Lead, that is Homestake and that is mining. During my eleven years as mayor, and four as state senator, the BHMM was forced to stand in the shadows as efforts and energies were devoted to bringing the lab to our town. Now is the time for the museum to take the next bold steps to become the treasure it is destined to be."
Craig Keyger- Retired Developer
"On my last visit to Lead, I heard about the plan for a new mining museum.  I want to say CONGRATULATIONS on your ideas for a new mining museum and its location. What an addition, NOT only to maintain the Lead/Deadwood history but for the state of South Dakota. The look of the building and the location are fantastic. I wish your team all the success in the world."
Thomas Golden- Executive Director, Homestake Opera House
"Along with our own project goals to restore the Homestake Opera House to full productive use, we are excited to support the efforts of the Black Hills Mining Museum. They are great neighbors and wonderful community partners, however there is great benefit to the Opera House in the expansion of downtown amenities to include an expanded courtyard and stair access from Julius Street to our main entrance. A new location and better facilities for our friends at the Mining Museum will open the door for this project to take place. Imagine a performing arts center in Lead that will not only bring exciting performers and community theatre shows to the Northern Hills, but one that can also take advantage of cool summer nights and bring live entertainment directly to Main Street!
Beverly Perkins-Conservation Assessment Program Assessor, Conservator
"For me, this museum and its collection is all about grit. Miners and their families established the collection and amazingly built the experiential displays that are so intriguing and informative. The town of Lead continued to care for the collections, provide educational programing, and serve as a community center for the surrounding area. And now, the staff and volunteers are leading the charge to provide a new building and grounds for their institution. Their vision is essential for the care of the collection. In order for the artifacts, documents, and memorabilia to survive, they must be housed in a proper museum environment, providing security, fire suppression, and stable relative humidity. I salute the staff, board, volunteers, and supporters for giving new, exciting life to a great museum."
Black Hills Pioneer – December 28, 2021
Gray Media Group – December 14, 2021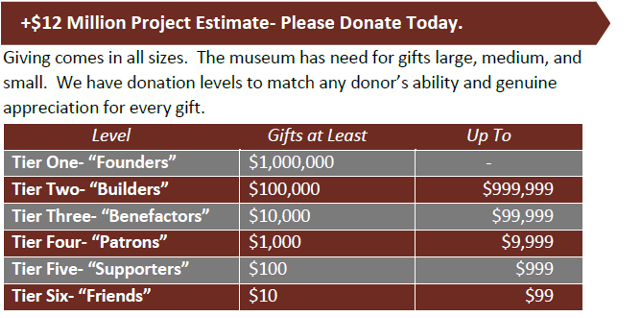 Organization/Corporate Contribution Commitment Form
Click Here
Individual Contribution Commitment Form 

Click Here
In March of 2022, the museum launched its first official fundraiser campaign- The Staff Challenge.
All of those who are a part of the museum have been challenged to see if they could find just 100 people who would donate $100 toward this project.  If you could be one of those to assist a staff member  in reaching their goal, they would appreciate it very much.  Another way to help would be passing along this challenge to others that you know who might be willing to give as well.  Though the funds necessary to complete a project like this may seem overwhelming, one way to reach that big goal is to take simple but accomplishable steps.  You can choose to send your gift directly to the museum using a form by clicking here.  Please be sure to mark on it toward which staff member your gift counts.  Thanks for whatever you can do to help!
As of November 2023, this campaign has raised a total of $51,200
Our Mining/Minerals Industries Partners
You can become a vital part of the telling of this amazing Black Hills mining story.  Join with the museum as it prepares to "tell your story" into the future.  The Black Hills Mining Museum has been preserving and educating about our area's rich mining history since 1986.  Now we want to tell this GREAT story even BETTER and with your help we will.
Every place has a story, and many of these places have a venue to tell their story.  While the story of a place is generally important and interesting to its people, not every place-story reveals significance or appeal beyond its own setting.  The BHMM has had marked success not just because it has told its own place-story well, but even more so because its place-story is one of great significance and appeal that is worth hearing.  LEARN MORE BY CLICKING HERE.